"After a spring and summer in Wisconsin woods—no ticks attached to me. They work!"

"If you have ticks in your area, you need these."

"I tell you, these work great. … I always wear them when I'm working on my land now."

"I can honestly say I haven't gotten bit by a tick while wearing them."

"Lifesaver! I loved the fact that I haven't found a tick on me in the months I've been using them. Wonderful idea."

"Wraps easily, and keeps ticks at bay!"

"Great protection. Easy to use and very effective."

"GREAT!!! Easy to use, comfortable, and very effective."

"Safe to walk in the woods. No ticks. This protection from ticks is easy to get on and off."

"Lymeez have been the solution for me! Since I started wearing my Lymeez almost a year ago, I HAVE NOT HAD ONE TICK BITE! They are so easy to put on and take off. I highly recommend this product to anyone wanting to avoid getting Lyme disease."

"These work! This is my second summer season using Lymeez. These do prevent ticks from crawling up from trail and leaf litter etc. The other day a tick crawled onto my arm up from the lawn chair. I put the tick on the year-old Lymeez and it started crawling down instead of up and then slowed and fell."

"Safe to walk in the woods. No ticks."

"I'm sure y'all already know how well your product works, but I just wanted to say they work AWESOME! My work requires work in the field year round where we are constantly exposed to ticks...especially the super aggressive Lone Star ticks. I discovered your Lymeez online and have been using them for over a year with amazing results. They work so well that our entire team uses them for tick protection now. They also enjoy watching the ticks crawl in circles, before crawling into one of the nooks In the fabric and dying. Anyway, thanks for creating such a great product that actually works."

"Tried mine out in woods. No ticks on me after 40 minutes. Ticks on hubby (not wearing Lymeez) 10 minutes near edge of woods!"
Lymeez 3D Mesh
Tick Gaiters
Lymeez Stretch
Mesh Tick Gaiters
Lymeez 3D Mesh
Cuff Gaiters
Lymeez 3D Mesh
Arm Gaiters
Treated with Microencapsulated Permethrin

When to wear
Rugged. Good forfield, brush & woods.
Good for yard & trail, not in brush.
Low profile. Rugged. Good for field & brush; Golf & Mtn Biking
Rugged. Good for gardening.
How attach
Wrap. Flexible fit. Vertical hook strip attaches to 3D mesh.
Pull on knit stretch mesh
Wrap. Flexible fit. Traditional hook & loop closure.
Sleeve. Flexible fit. Traditional hook & loop closure.
Height / Length
12"
12"
4"
12"
Range of Fit
S–M & L–XL
Youth to XL
S–M & L–XL
S–XL adult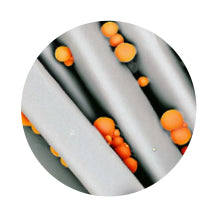 Microencapsulated Permethrin
Lymeez products are treated with microencapsulated permethrin bound to every fiber. They provide effective protection from ticks that may carry Lyme disease. UV-resistant capsules (shown above) only burst by friction of movement—Active Release™. Long lasting repellency effectively remains for 50 washings—the expected life of the product.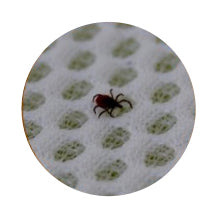 3D Mesh Confounds & Repels Ticks
Ticks instinctively explore the pores of the 3D mesh. We call it "Lymeez Land." The 3D mesh has been shown to slow their climb by 4–8X. Ticks are exposed to repellent longer. Durable—good for yard, field and brush. Easy on/off wrap. Fits nearly all adults. Patented.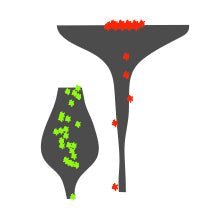 Proven to Slow Ticks Climb
Untreated 3D mesh was tested against untreated khaki pants. The distance covered in 3 minutes by 48 adult female deer ticks was measured. Timing was stopped if a tick reached 35″ (89 cm) before 3 minutes which happened most of the time on the khaki pants—it never occurred on the 3D mesh.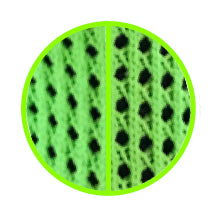 Stretch Mesh Gaiters
Ticks instinctively explore the variable-sized mesh holes—diverting and slowing them on their climb. Great for yard work and outdoor recreation. Pull on stretch knit. Fits youth through adult. Stretch to 12″ height. Lightweight. Breathable. Patent pending.